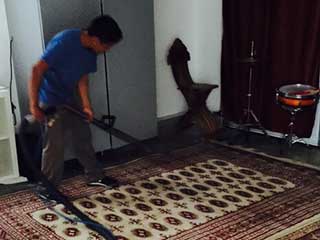 Many people do not distinguish among oriental carpets and that's why they are usually indifferent for matters concerning their textiles, origins or motifs. Although making a rug is complicated and hard, it differs from country to country and the materials used would actually determine the right procedures for effective and safe rug cleanup. Hence, next time you are about to invest your money in a new handmade rug, you should gather as much information as possible about its identity.
How Important Is Its Textiles?
Among all handmade rugs, the wool carpets are the strongest ones.
They are very resistant with water and fire.
They have excellent insulation properties.
They are not stained easily.
Silk carpets are impressive and very soft but they are extremely sensitive and require careful cleaning methods. It won't be the end of the world if you vacuum them but you shouldn't do it often. It would be best to use special brushes for the removal of dust.
How Do I Clean the Fringes?
Fringes are very sensitive to the force of vacuum cleaners and, therefore, you must refrain from vacuuming them. They need special treatment with the use of a comb and you can also wash them carefully to avoid water ending up on the fibers that could causewater destruction.
Should I Buy Handmade Rugs Through the Web?
You can buy many things through the web but we wouldn't recommend Persian carpets. They cost too much and you need to check and feel them first. Don't get carried away by cheap prices because there is always a catch. Rugs are not usually of the best quality and density.
Prefer stores, which can also provide warranties, information about the natural materials, textiles and colors, and reliable tips about rug maintenance. The country of origin is important and you need to remember that Iran, Turkey and the surrounding areas are considered the best.
Handmade rugs are very resistant to natural elements but they don't get along with moisture and the sun. Hence:
Keep them away from large openings.
Mold examination every few months is necessary to prevent moisture problems.